Get Connected!



---
Features
Online Access 24/7
California DMV Licensed
100% Online & Easy
Smart Phone and Tablet Optimized
Phone Support 24 Hours
Online Live Chat
100% Money Back Guarantee
Secure SSL Credit Card Processing
Start Now, Pay Later Option
Processing Available for Same Day
Sign Up Now!
I have used Inandouttrafficschool.com 2 times, my husband once, based on my recommendation and I recommended it to several family members and friends. It's simple to use and very educational. Thanks so much!
- Gail H
I loved this course, I feel that I am a safer driver now than prior to taking this course. I find the statistics interesting in regard to drinking and driving. Also this was more educational method than taking a different type of traffic school.
- Monique W
I personally really enjoyed this specific traffic school. I learned from it and it was easy to access.
- Shawna D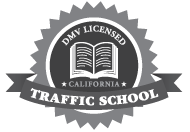 More About Our Services
Satisfaction Guaranteed
InAndOutTrafficSchool.com is committed to complete customer satisfaction and to prove it, we have an absolute money back guarantee! If, at anytime, during the study course you are not completely satisfied we will refund your money. NO QUESTIONS ASKED! (Once you have passed the final, the guarantee is null and void. In addition, this guarantee is null and void 30 days after the due date has expired.)
Fast, Fun, and Easy
You don't have to waste time in a classroom to clear a traffic ticket. There's a faster way, with InAndOutTrafficSchool.com. If you have a computer and an internet connection you can take the course online whenever you want, day or night. We offer an online traffic school course that's fast, easy, and convenient. With our self-paced course you can finish the test in less than a day or log in and out whenever you want, it's that simple!
Safe & Secure
InAndOutTrafficSchool.com is equipped with one of the industries leading security software. You will feel safe and secure knowing that your information is safe and protected from theft. Our credit card processing system uses a Secured Socket Layer (SSL). That means your information is encrypted while it passes through the internet. InAndOutTrafficSchool.com surpasses the competition in security, technology, and quality.