Get Connected!



---
Features
Online Access 24/7
California DMV Licensed
100% Online & Easy
Smart Phone and Tablet Optimized
Phone Support 24 Hours
Online Live Chat
100% Money Back Guarantee
Secure SSL Credit Card Processing
Start Now, Pay Later Option
Processing Available for Same Day
Sign Up Now!
I have used Inandouttrafficschool.com 2 times, my husband once, based on my recommendation and I recommended it to several family members and friends. It's simple to use and very educational. Thanks so much!
- Gail H
I loved this course, I feel that I am a safer driver now than prior to taking this course. I find the statistics interesting in regard to drinking and driving. Also this was more educational method than taking a different type of traffic school.
- Monique W
I personally really enjoyed this specific traffic school. I learned from it and it was easy to access.
- Shawna D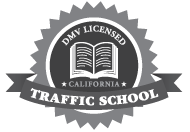 Policies
Privacy & Protection
InAndOutTrafficSchool.com has never and will never use, sell, distribute or compromise your private information. Our privacy policy applies to all information collected and it's usage with InAndOutTrafficSchool.com services. InAndOutTrafficSchool.com developed this privacy statement to demonstrate our commitment to protecting your information.
Security Procedures
When submiting sensitive information to InAndOutTrafficSchool.com, your information is protected both online and offline. Information such as driver's licence number, credit card number, name, address and telephone number filled out during the registration process is encrypted using a Secured Socket Layer (SSL) during and after all transactions and when requesting or dealing with information of a sensitive nature. InAndOutTrafficSchool.com allows registered students to edit their information only by contacting us by phone. You will be asked to verify your information for your own protection. If you need assistance please call toll free at HS 2086.
Links
InAndOutTrafficSchool.com contains links to other websites such as credit card services, delivery services and other businesses. InAndOutTrafficSchool.com is not responsible for the privacy practices or procedures of any other company's websites. We encourage our students to read the privacy policy and procedures of each and every website they visit.